TLDR
Motivosity offers Connect and Recognize. Connect is completely free and a powerful tool where you can expect 23% usage from your team. Recognize, Motivosity's paid platform, contains everything you get in Connect, plus an experience that drives an incredible 95% usage. Recognize recruits everyone, not just the leadership team, to focus on the good and to express public gratitude.
Connect & Recognize
If you're reading this...it means you've probably asked the question "Why should I upgrade to Motivosity Recognize instead of just sticking with the free Connect product?"
Well, we're glad you asked.
First of all, Recognize builds on everything that Connect already offers, so you gain new (and amazing) capabilities. Let's start off by showing you exactly what you get with each platform.
What You'll Get
Connect is a great tool to...well...connect and engage your employees, especially if you don't have an initiative in place already. If you don't know where to start or don't have the budget, Connect is perfect for you.
With personality profiles, interest groups, peer- to-peer appreciation in an interactive feed, and more, it's the perfect place to start for companies that are working from the baseline.
But we get the impression that you're not satisfied with the baseline, right?
For companies looking to create a truly powerful engagement effort, Recognize is the right play. Because it includes all the capabilities of Connect, but with even more engagement, more gratitude, and more rewards. You're getting all those great connection-centric features without it stopping there.
Using Recognize gives everyone more to be excited about. We're talking about influence currency to attach to recognitions, spot recognitions, awards, milestones, and limitless employee rewards (check out our ThanksMatters card – it's one-of-a-kind)
All of this is great, right? Right. But let's be honest, you probably want some concrete data about the difference in impact between Connect and Recognize.
Diving Into the Details
We've examined the participation percentages across all Motivosity users who are using Connect or Recognize.
And let us tell you, the difference is big. If you're starting at ground zero, using Connect we'd expect the average company to see a 23% engagement rate each quarter. Not bad considering where you started and the fact that it's completely free.
But, if you want to engage and support your entire team, there's no question that Recognize will accomplish that. Companies that use Recognize boast an average 95% program engagement rate each quarter. And that's a HUGE win if we've ever seen one.
Why the difference?
Recognize leverages the power of "peer to peer" appreciation: each month you give every team member a few dollars (normally $3-$5) that they can use, one dollar at a time, to say "thank you" to their peers, team members, and managers.
Are the dollars fun and lead to great rewards? Of course. But those dollars also create a powerful nudge that recruits everyone, not just the leadership team, to focus on the good and to express public gratitude. Here's what that looks like with a few of our customers that have experienced the difference between the two.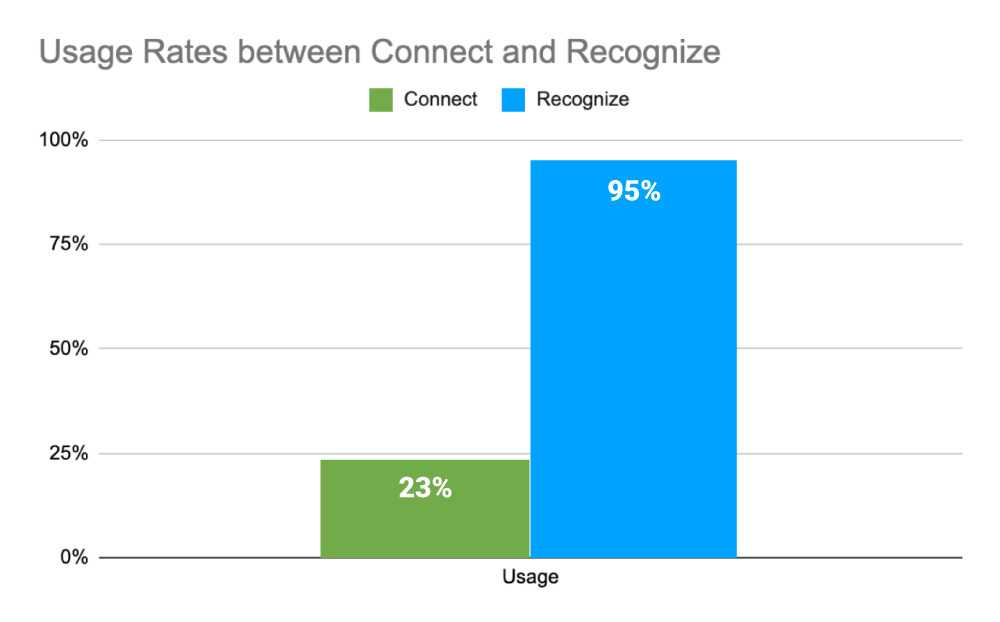 Connect & Recognize - Healthcare Services
A longtime Motivosity customer within the healthcare industry has almost 1,800 employees spread throughout the United States. This specific company has historically seen 84% monthly usage on the Recognize platform.
In June of 2020 (thanks Covid...) financial circumstances changed within their business and the organization temporarily halted peer-to-peer giving. During this four-month period of using Connect, one of every four users (23%) was active.
When they returned to Recognize with giving dollars, monthly usage increased to an incredible 88%. Clearly peer to peer giving via Recognize made a massive impact on how involved their team was.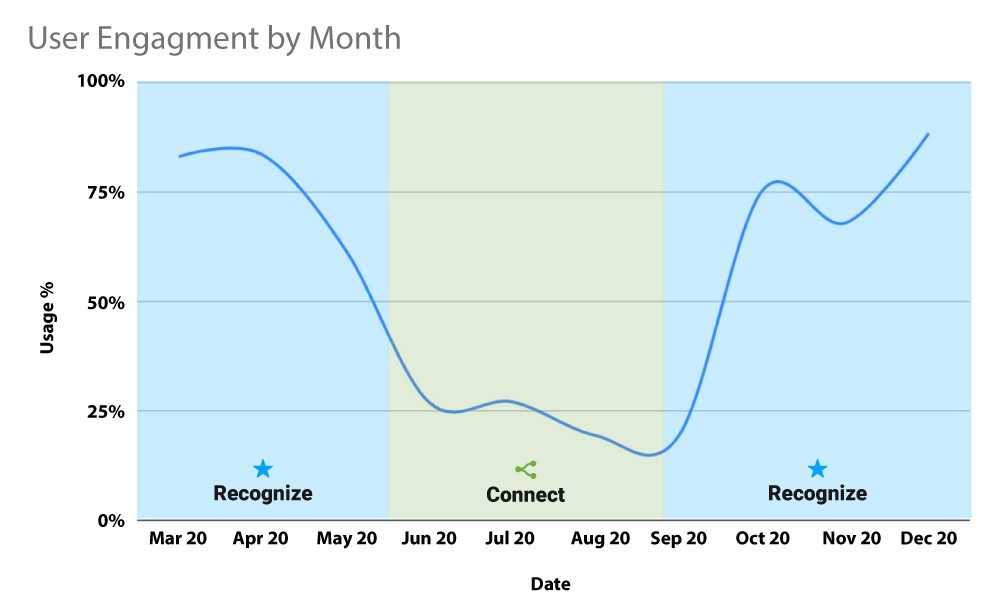 Connect & Recognize - Travel Industry
A company of 60 within the travel industry was interested in Motivosity but was unable to fund Recognize initially. They launched Connect for their internationally located team members. An initial burst of excitement led to over 50% of their team using Motivosity to appreciate their co-workers.
Sensing the potential impact, the HR team prioritized funds for Recognize and peer-to- peer giving as quickly as they were able. Their employee net promoter score (eNPS) prior to funding was at 43 - a respectable employee sentiment.
Immediately after funding the monthly, providing just a few dollars for appreciation, the company eNPS jumped to 50. Then 56. Only three months after funding the Recognize account, the organization had an eNPS of 80 - a world-class score where Motivosity played a crucial role.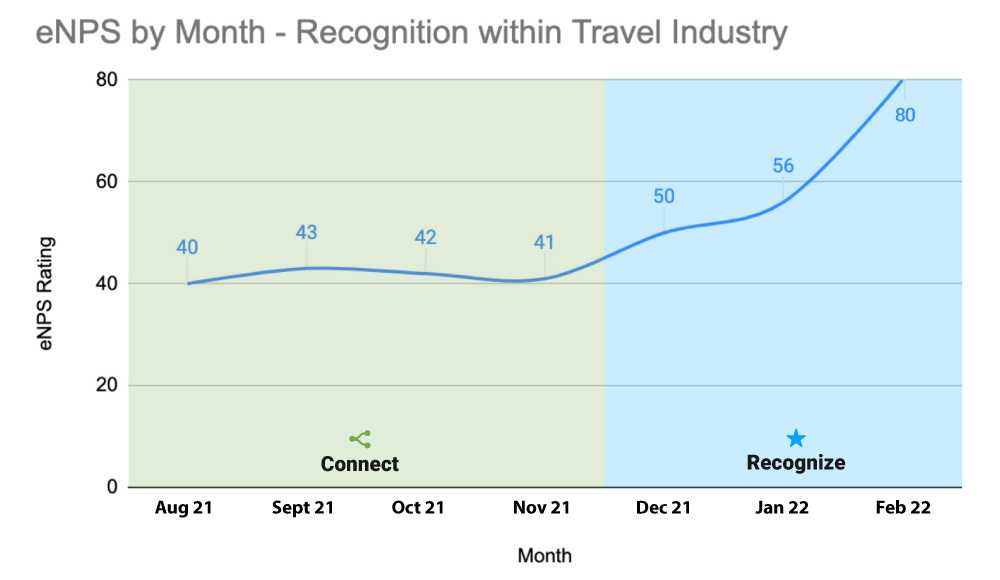 Why These Stats Matter
These stats get us all kinds of excited, but it's not just because we love to see numbers up and to the right.
Here's why it really matters to you and your organization: First of all, we get the impression you're the kind of company that WANTS to take care of your team - creating a great culture is important to you.
Motivosity promotes cultures of gratitude and connectedness. The dollars get your employees into the platform and recognize their coworkers more consistently. When your team members feel appreciated and connected OF COURSE they're happier at work, and they're actually excited to get to the office on Monday mornings!
The end result is improvements in employee sentiment, retention, and their impact on your business. Connected and gratitude-centric cultures have better business outcomes.
Plus, We'll Make Your Other Recognition Efforts SIMPLE
One last note about Recognize and Connect. The paid platform solves so many issues that typical companies and HR teams are managing manually..or not managing at all. Here are just a few:
Spot Recognitions - Give your managers a secure and trackable way to provide spot recognitions, so they can celebrate their employee's accomplishments.
Service Awards & Milestones - We make birthdays and anniversaries SO easy! Never worry about missing a crucial day for your team.
Awards & Achievements - Wellness programs, safety and security trainings, March-madness leagues. Motivosity enables and drives engagement here too.
Customizable Store - Create your own recognition store. Customize virtual gift card options, support charitable causes, and offer company SWAG.
ThanksMatters Card - The ThanksMatters card lets everyone be rewarded in the best way for them. It's a Visa directly tied to the user's rewards balance and it's awesome!
Conclusion
Stick with Connect for free. Pay for Recognize to see an increased impact. Either way, you're focusing on the right things - gratitude and connectedness within your culture. And Motivosity is here for it!